Third mission
Companies, community and public engagement
We believe universities should not restrict themselves to teaching and academic research, but should contribute to supporting technological, economic and social innovation locally and nationally.
Third mission is the term used by all public universities to refer to their direct contributions to civil society.
The University of Verona seeks to provide opportunities for dialogue with businesses, other institutions and the community by regularly hosting events where academics and the public can exchange knowledge and learn together.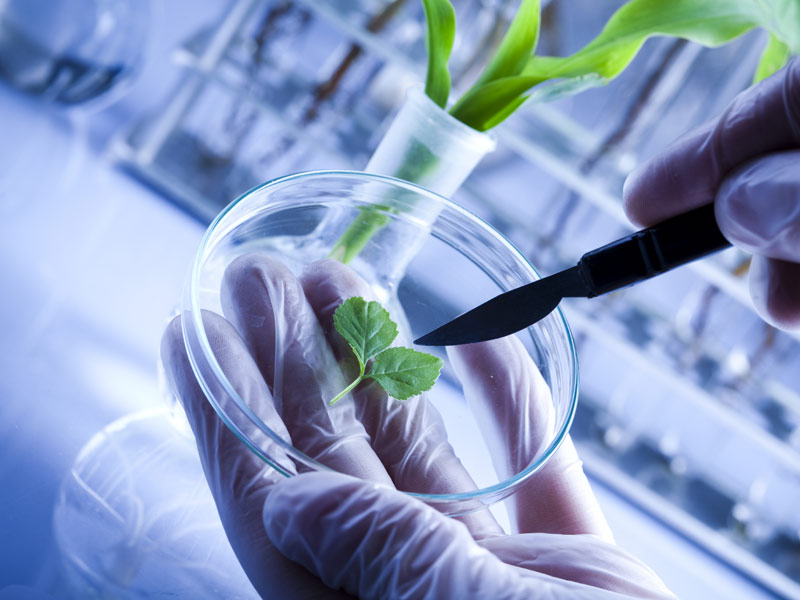 Many opportunities for companies that believe in research
Commissioned research, collaborations with spin-offs, consultations and scientific equipment, job seeking
UNIVR supports collaborations with companies by making university resources such as new technologies, research staff and facilities available for use in projects. We connect job seekers and job offers, putting companies in touch with young graduates through internships, work placements and graduate jobs.
Read more
Public Engagement
The University and the city
The University organises and promotes meetings, conferences, shows, and events open to the city to disseminate scientific research even among non-experts and thus sharing knowledge, in a constant and fruitful dialogue with the city's institutions and the local cultural and social organisations.
The term 'public engagement' is used to describe this set of non-profit activities, aimed at achieving educational, cultural, and societal development, carried out for the benefit of a wide range of audiences other than students, academics, or business representatives.
Read more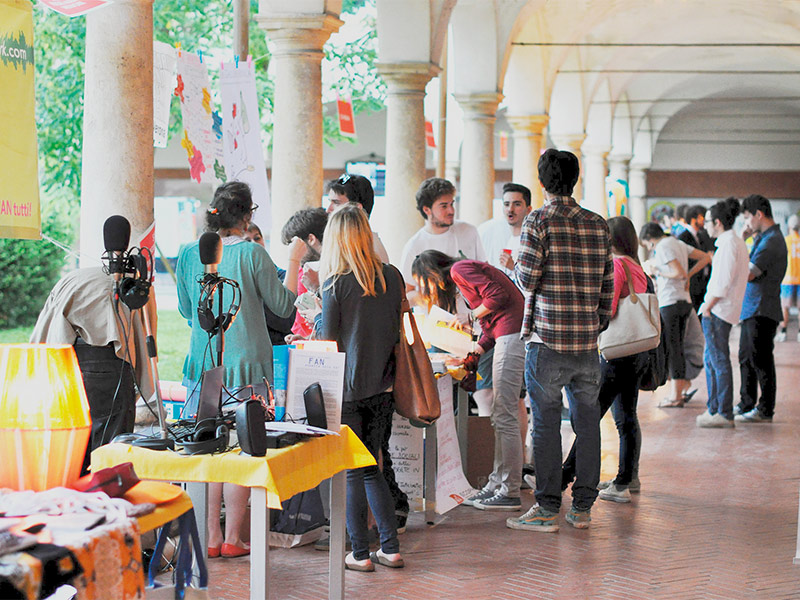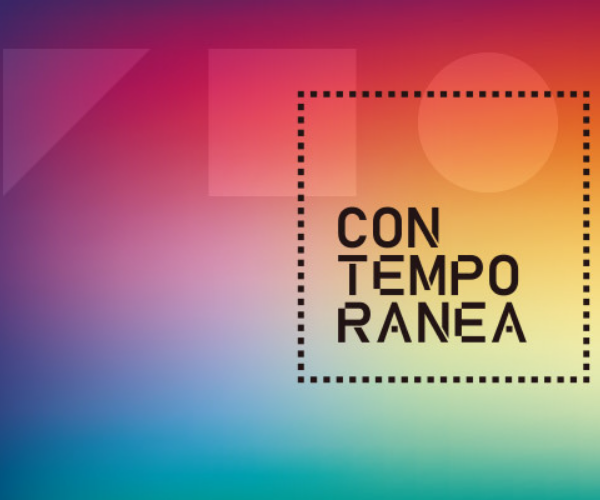 Contemporanea
Una piattaforma multidisciplinare sulle tematiche della contemporaneità
Sviluppata a partire dalla mostra Contemporanee/Contemporanei Contemporanea intende realizzare percorsi formativi ed iniziative culturali che vedano coinvolti tanto la comunità studentesca ed accademica che la comunità cittadina. L'obiettivo è promuovere l'interazione tra ricerca e società civile e fare dell'università il luogo deputato alla riflessione critica sui diversi linguaggi della contemporaneità, non solo quella propriamente visiva, ma anche cinema, musica, teatro, letteratura, filosofia, scienza.
Attraverso attività formative rivolte alle giovani generazioni e proposte culturali aperte alla cittadinanza, Contemporanea intende generare conoscenza e occasioni di trasformazione, a partire proprio da Santa Marta, intesa non solo come polo universitario, ma polo culturale aperto alla città e al territorio.
Scopri di più
Veronetta Contemporanea Estate
Giugno - Luglio 2022
Musica, poesia, cinema, teatro, arte, danza, letture e incontri... ovvero "Veronetta Contemporanea Estate", rassegna culturale organizzata dall' Università degli Studi di Verona insieme all'Accademia Filarmonica di Verona con la collaborazione del Comune di Verona, assessorato alla Cultura, e il contributo di ESU di Verona.
La prima edizione si è svolta al Polo Santa Marta dal 14 giugno al 2 luglio 2022.
Oltre 2mila presenze, più di 30 appuntamenti in tre settimane di eventi culturali e incontri sui linguaggi della contemporaneità.
Scopri di più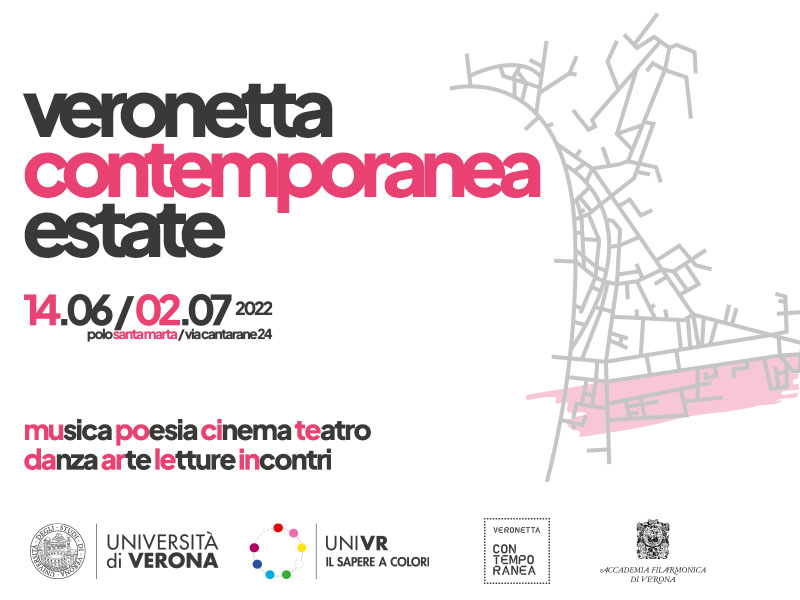 Permanent Exhibitions and Events

Find out more about the history of the former Austrian military facilities and their architectural restoration through guided tours and the permanent exhibition
"Storie e percorsi in mostra"
.
Book your guided tour

An innovative project to engage students in the world of contemporary art. The exhibition – which is curated by Denis Isaia from the Mart Museum in Rovereto – includes works of contemporary art from the private collection of Giorgio Fasol.
Find out more
The University provides opportunities to learn more about the historical events that marked the 20th century. Lecturers, experts, and eyewitnesses give the public the opportunity to analyse the most important events in contemporary history. Every year MemoriaMemorie offers a dedicated programme of events and activities, especially for the International Holocaust Remembrance Day. The initiative also featured, from 2015 to 2018, a series of events to commemorate the centenary of the First World War.
Kidsuniversity
Il piacere della conoscenza
Kidsuniversity – which aims to convey the pleasure of doing research to children aged eight to thirteen – is where university teachers hold lectures and workshops for primary and secondary school students to stimulate their curiosity and critical thinking. Moreover, school teachers can benefit from qualified training courses and workshops.
Go to site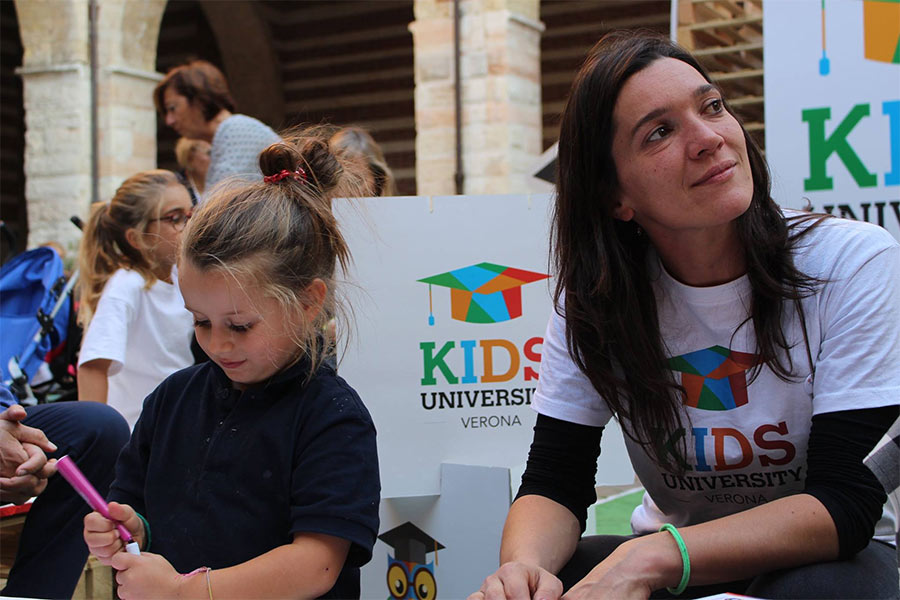 Publications about the University of Verona
Books and monographs on the history of our University

Santa Marta. Past & Present
Di Maria Luisa Ferrari, Cierre Edizioni (VR), 2016

Santa Marta. Dalla Provianda al Campus universitario
A cura di Valerio Terraroli, Cierre Edizioni (VR), 2015

I Lebrecht
Francesco Vecchiato (con prefazione Rettore Mazzucco) – 2013

Alle origini dell'Università di Verona (1949-1959)
Anno 2007

Nel 50° anniversario della "Libera Università" di Verona (1959-2009)
A cura di Francesco Vecchiato – 2010

PALAZZO GIULIARI A VERONA. Da residenza patrizia a sede universitaria
A cura di Loredana Olivato e Gian Maria Varanini – edizione 2009 ed edizione 2014

25 anni per Verona – 1982-2007 stiamo scrivendo la nostra storia
A cura dell'Ufficio Comunicazione - Università degli Studi di Verona
PDF


Alessandro Giuliari "Un tipo, un carattere, un esempio" - 2008
La nascita della Facoltà di Medicina a Verona
A cura di Filippo Rossi – 2002

L'opera storiografica di Gino Barbieri nel decimo anniversario della scomparsa
A cura di Giovanni Zalin - 2001