MyUnivr Students
All the services for enrolled students
Your personal account allows you to access all the university services you need online.
You can contact various offices via the internal Help Desk.
You will also find notices about your degree programme and modules, lesson timetables and the lecture rooms for your classes.
Login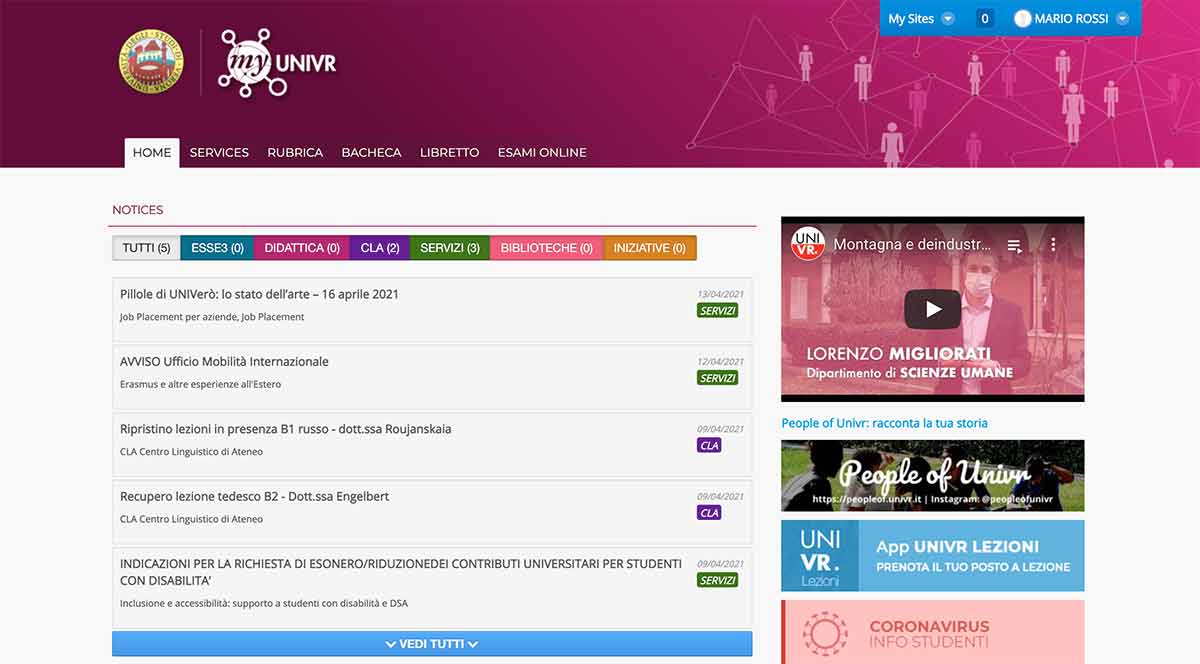 Portale Esse3: il sistema attraverso il quale potrai gestire in autonomia i seguenti servizi:
libretto elettronico
bacheca appelli
iscrizione agli appelli d'esame
candidatura a bandi di mobilità internazionale
presentazione domanda di stage e tirocini (ad esclusione dei corsi dell'Area Medica)
presentazione della domanda di laurea
caricamento elaborato finale di tesi
questionario matricole
questionari di valutazione della didattica
Hai problemi di accesso?
Sarà data la possibilità a tutte le studentesse e a tutti gli studenti di tutti gli anni di corso di iniziare e/o di proseguire il proprio percorso di studi in aula, compatibilmente con la disponibilità di spazi e strutture e nel rispetto delle misure di sicurezza previste.
Prenota il tuo posto a lezione. Sarà possibile prenotarsi a partire da 5 giorni prima dello svolgimento della lezione.
L'opinione degli studenti è fondamentale per l'Ateneo
Durante il tuo percorso accademico avrai la possibilità di esprimere la tua opinione, in forma anonima, attraverso questionari dedicati.
Particolare rilevanza assume il questionario sulla didattica, la cui compilazione è necessaria per poterti iscrivere all'esame.
Puoi anche decidere di non aderire all'indagine rispondendo "no, non voglio partecipare" alla richiesta iniziale di partecipazione. Ti verrà chiesto di indicare per esteso i motivi della mancata partecipazione. Per saperne di più guarda il video di presentazione.
Scopri di più
Possibilità di riconoscimento CFU
In Ateneo vengono organizzate periodicamente delle attività formative sia rivolte agli studenti rappresentanti negli organi di governo che aperte a tutti gli studenti interessati.
Queste attività consentono l'acquisizione di 1 CFU.
Anche l'attività di rappresentante degli studenti consente l'acquisizione di ulteriori CFU per un massimo di 2.
Maggiori informazioni
Formazione, filosofia e servizio sociale
Lettere, arti e comunicazione
Lingue e letterature straniere
Uffici aperti al pubblico
Ufficio orientamento allo studio
Ufficio diritto allo studio
Certificates, self-certifications and Diploma Supplements
Request a certificate, or ask for information
FIND OUT MORE
FAQ
FAQ – University Scholarships and Grants
FAQ
FAQ – Inclusion and Accessibility
Carte dei servizi e standard di qualità
Carte dei servizi e standard di qualità