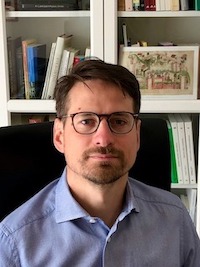 Informazioni
Role

Head of the Teaching Board of Foreign Languages and Literatures

Office

Palazzo di Lettere, Room 12, Floor1

Email

Phone

+39 045 802 8540

Profile page
Introduction
Matteo De Beni is an Associate Professor in Spanish Linguistics. He is the Head of the Teaching Board of "Lingue e Letterature Straniere".
His main research topics are:
The history of Spanish language and diachronic lexicography.
Technical-scientific texts in Spanish, with a focus on astronomy, medicine, natural sciences (16th-19th century); they are studied thanks to corpora and other electronic resources.
The history of translation and comparative analysis of original texts and their translations.
In 2017 he was elected
Académico Correspondiente
by the Academia Norteamericana de la Lengua Española (ANLE).
He is the director of the book series
Pliegos Hispánicos
(publishing house: Universitas Studiorum, Mantua) and member of the editorial or advisory board of several scientific journals.
Other information
Roles in university bodies
componente Collegio dei Docenti del Dottorato in Letterature Straniere, Lingue e Linguistica A.A. 2020/2021
associato Consiglio del Dipartimento di Lingue e Letterature Straniere
ricercatore Collegio dei Docenti del Dottorato in Studi Filologici, Letterari e Linguistici
componente Collegio dei Docenti del Dottorato in Lingue e Letterature Straniere A.A. 2022/2023
Referente di Dipartimento per la Didattica Referenti Dipartimento Lingue
Member of Teaching Committee for Foreign Languages and Literatures
Chair of Commissione Didattica
Insegnamenti
| A.A. | Corso | Nome | Online | Moduli svolti da questo docente |
| --- | --- | --- | --- | --- |
| 2023/2024 | Laurea magistrale in Languages, Literatures and Digital Culture | History of the Spanish language | | |
| 2023/2024 | Laurea magistrale in Languages, Literatures and Digital Culture | Spanish language and linguistics | | |
| 2023/2024 | Laurea in Lingue e culture per il turismo e il commercio internazionale | Spanish Language 1 [Cognomi A-E] | | |
| 2023/2024 | Laurea in Lingue e culture per il turismo e il commercio internazionale | Spanish Language 1 [Cognomi F-O] | | |
| 2023/2024 | Laurea in Lingue e culture per il turismo e il commercio internazionale | Spanish Language 1 [Cognomi P-Z] | | |
| 2022/2023 | Dottorato in Lingue e Letterature Straniere | Doctoral lessons | | |
| 2022/2023 | Laurea magistrale in Comparative European and Non-European Languages and Literatures | History of the Spanish language | | |
| 2022/2023 | Laurea magistrale in Languages, Literatures and Digital Culture | Spanish language and linguistics | | |
| 2022/2023 | Laurea in Lingue e culture per il turismo e il commercio internazionale | Spanish Language 1 [Cognomi A-E] | | |
| 2022/2023 | Laurea in Lingue e culture per il turismo e il commercio internazionale | Spanish Language 1 [Cognomi F-O] | | |
| 2022/2023 | Laurea in Lingue e culture per il turismo e il commercio internazionale | Spanish Language 1 [Cognomi P-Z] | | |
| 2021/2022 | Laurea in Lingue e culture per il turismo e il commercio internazionale | Spanish Language 1 [Cognomi A-E] | | |
| 2021/2022 | Laurea in Lingue e culture per il turismo e il commercio internazionale | Spanish Language 1 [Cognomi F-O] | | |
| 2021/2022 | Laurea in Lingue e culture per il turismo e il commercio internazionale | Spanish Language 1 [Cognomi P-Z] | | |
| 2021/2022 | Laurea magistrale in Lingue per la comunicazione turistica e commerciale | Varieties of Spanish 2: tourism and commerce | | |
| 2020/2021 | Dottorato in Letterature Straniere, Lingue e Linguistica | Phraseology and Lexicography 1 | | |
| 2020/2021 | Laurea magistrale in Comparative European and Non-European Languages and Literatures | History of the Spanish language | | |
| 2020/2021 | Laurea in Lingue e culture per il turismo e il commercio internazionale | Spanish Language 1 [Cognomi A-E] | | |
| 2020/2021 | Laurea in Lingue e culture per il turismo e il commercio internazionale | Spanish Language 1 [Cognomi F-O] | | |
| 2020/2021 | Laurea in Lingue e culture per il turismo e il commercio internazionale | Spanish Language 1 [Cognomi P-Z] | | |