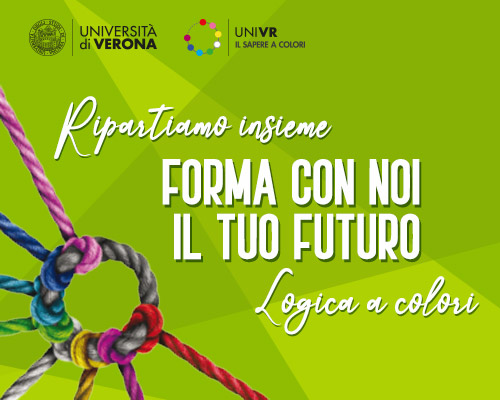 Come iscriversi
Informazioni per l'iscrizione ai corsi di studio 2020/21
Tutte le informazioni su corsi di studio, modalità di accesso, bandi di ammissione, scadenze, DUB - Domanda Unica Benefici per richiedere la borsa di studio e/o la riduzione dei contributi studenteschi.
Per maggiori informazioni consultare le pagine:
Come iscriversi Immatricolazioni Segreterie Studenti
UFFICIO ORIENTAMENTO: 045 802 8588
Dal lunedì al venerdì, h 9.00 - 13.00.
15 OTTOBRE > 17 dicembre
Mostre di Ateneo

L'ateneo invita a scoprire la storia dell'ex caserma austriaca e del suo recupero architettonico organizzando visite all'edificio e all'esposizione permanente "Storie e percorsi in mostra".

Scopri di più
In ottemperanza alle disposizioni per contrastare il Covid-19 le visite sono sospese.

Un progetto innovativo per coinvolgere gli studenti nell'arte contemporanea.
Esposizione di opere di arte contemporanea dalla collezione di Giorgio Fasol. Mostra curata da Denis Isaia del Museo Mart di Rovereto.

Scopri di più
In ottemperanza alle disposizioni per contrastare il Covid-19 le visite sono sospese.
Why Verona
Advantages of studying in Verona
Living, studying, events, transport and accommodation in Verona.
Discover all the opportunities.
More

Organisation, indicators, performance, and use of resources
The University of Verona aims to make all information relating to every aspect of the organisation easily accessible.
This section – currently available in Italian – includes all indicators relating to management, use of resources, and the outcomes of measurement and assessment activities

Monitoring and evaluation of university activities
Planning, monitoring and checking to improve standards in teaching, research, administration and third mission activities.

Equal opportunities and wellbeing at work
Established by Law no. 183/2010, the Committee for Equal Opportunities, Employee Wellbeing and Non-Discrimination at Work (CUG) is a special university body which deals with issues relating to equal opportunities, the employees' wellbeing and non-discrimination in the workplace. CUG replaces and combines the functions of the former Equal Opportunities Committee and the Joint Committee against Mobbing.