Online Exams
Guidelines for Teaching Staff
The ESAMIONLINE.UNIVR.IT platform for online exams is now available
On this web page you will find technical instructions, including guidelines and video tutorials, for conducting online exams, i.e. Moodle Quizzes, or Paper-based exams on Moodle.
For further details please see: Online Exams - Guidelines for Teaching Staff
BEFORE THE EXAM
1) CHECK YOUR EQUIPMENT
Lecturers conducting or invigilating an exam must have a personal computer or a laptop, which must be equipped with webcam and audio system (microphone and speakers) and an adequate internet connection. In addition, you must download and install the most up-to-date version of the client ZOOM (with PRO licence).
Moreover, you should make sure you have logged into Zoom with SSO, i.e. using your GIA login details:
start the client
click on 'Sign in'
click on 'Sign in with SSO', top right corner
enter 'UNIVR' in the company domain field
enter your GIA login details (username and password)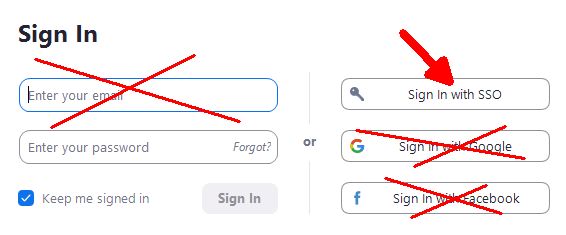 e quindi
2) CREATE THE EXAM ON ESAMIONLINE.UNIVR.IT
You can create an exam from your DASHBOARD on MyUnivr by clicking on 'Gestione esami online'. This option enables all the module's lecturers to see a list of the corresponding exams on Esse3; however, only the members of the examination committee will be allowed to create an exam on Moodle (Esamionline) and register students.
There is a pre-configured template available for lecturers intending to create an exam, in which some information will be already present, with some pre-arranged options. In particular, it is divided into three different sections, so as to provide students with a clear view of the procedures they will need to carry out on the day of the exam.
PLEASE NOTE: it is optional to create the exam on esamionline.univr.it platform for oral exams only — in such a case, it will be sufficient to create a Zoom meeting (thus hiding the other sections).
3) SCHEDULE A MEETING
Soon after having created your exam on Esamionline, you should create the Zoom meeting which students will need to take part in on the day of the exam. To schedule a Zoom meeting, enable Moodle's external tool (Tool esterno) by using the Zoom LTI pro app, which enables you to schedule meetings within your learning management system (LMS), and set all the meeting settings: date, time, duration, 'Waiting Room', access only to authenticated users with GIA login details, alternative hosts.
We recommend always enabling a 'Waiting Room'. If other invigilators are to be logged into the meeting as 'alternative hosts', they will need to have a Zoom Pro licence, otherwise you will need to add them in the meeting as 'co-hosts'.
Please note that the option 'Only authenticated users can join' must always be enabled by selecting 'credenziali di Ateneo GIA' (GIA login details) from the drop-down menu. By doing so, in addition to making the meeting safer, you will not need to carry out a check of participants' identity documents, since GIA login details are sufficient to correctly identify students.
To schedule a meeting, just click on 'Accedere al meeting dell'esame' near the green puzzle icon, then click on 'Schedule a New Meeting':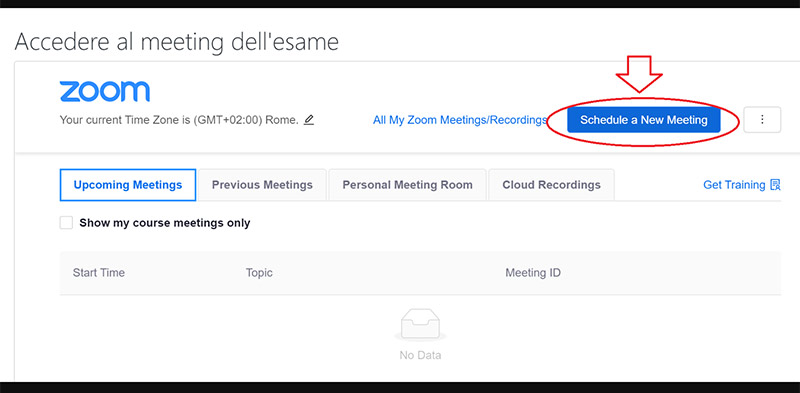 Based on the number of students registered for the exam, you may need to divide participants into groups of maximum 24 students. In such a case, you will also need to appoint one invigilator for each group — these should be added as 'alternative host' if added when scheduling the meeting, or as 'co-host' once the meeting has already started. Invigilators will need to supervise each group of students in a separate 'Breakout room'. Alternatively, each lecturer/invigilator can schedule as many meetings as there are groups of students, to be activated at the same time.
The maximum number of students per meeting is about 150: if the number of students is higher — or if there are not enough invigilators — it will be necessary to schedule different meetings in sequence, and then different tests.
We recommend becoming familiar with Zoom and, in particular, with 'Breakout rooms'.
4) MOODLE QUIZ — PREPARE OR TRANSFER QUESTIONS — THE QUESTION DATABASE
On Moodle to create a QUIZ you first need to build the 'question database' (archivio domande), from which you can then draw all or a subset of elements to build the quiz.
Please note that you can also transfer external question databases from Moodle, or from other quiz management systems (STAGE).
You can also set assessment criteria for each question, establishing different scores.
5) MOODLE QUIZ CONFIGURATION
The Quiz activity is automatically configured by the system at the time of creating the exam on Moodle. You will need to add the following details about the exam:
Name ('General' field)

Duration

Evaluation
Layout (e.g. one question per page)
Question behaviour
Login password
Once the configuration is complete, you will need to select the questions from the question database which was previously created and add them to the quiz.
6) PAPER-BASED EXAM ON MOODLE CONFIGURATION
The exam or assignment activity (attività compito) is automatically enabled by the system at the time of creating the exam on Moodle. You will need to:
edit the title of the activity

upload the Exam paper, i.e. the PDF file with the exam questions that will be displayed to students.
7) REGISTER YOUR STUDENTS - IDENTITY CHECK (REPORT ID)
This is the procedure which enables you (lecturer) to register for the paper-based exam on Moodle all students who have registered on Esse3. This can be done only once the deadline for registrations on Esse3 has expired (one day after the registration deadline), and it is fundamental to enable students to take the exam on Moodle (Esamionline).
Please note that this procedure DOES NOT provide Report IDs anymore, i.e. the document containing all the personal data and the Student ID card photograph of registered students: checking students' ID documents is NOT necessary anymore, since the GIA login details that students use to log into the meeting are equivalent to a 'digital signature', which allows to identify students clearly.
HOW TO MANAGE A ZOOM MEETING ON THE DAY OF THE EXAM
1) LOGGING INTO THE MEETING
On the day of the exam, all users (lecturers, invigilators, students) will be able to access the Zoom meeting:
from the exam homepage on EsamiOnLine.univr.it, by clicking on the Zoom activity, and then 'Start'/'Join'.
only using their GIA login details, otherwise they will be denied access.
2) MANAGING WAITING ROOMS
The 'Waiting Room' is the virtual waiting room of the Zoom meeting: if you enable it in the meeting settings, each student who logs into the meeting will be put on hold and you will have to 'admit' them to the main meeting session. At this stage it is not necessary to call attendance, but simply check that the number of students in the 'Waiting room' is the same as the expected number, and then add them all (click on 'admit all').
PLEASE NOTE: you will not need to carry out a check of participants' identity documents, since GIA login details are sufficient to correctly identify students.
3) MANAGING THE MEETING
Once logged into the meeting, you will need to:
disable private chat by selecting 'Chat' from the menu bar and then clicking on '…' at the bottom right of the chat window, then clicking on 'Everyone Publicly';
call attendance — to make things easier we recommend having the list of students printed on paper;
provide your students with exam details (number of questions, time allowed, etc.), general rules (what to do if the internet goes down, etc.) and exam instructions.
4) CREATING 'BREAKOUT ROOMS'
'Breakout rooms' are virtual rooms that you will need to use to divide students into groups when administering an exam to a large number of students. Each 'Breakout room' will be supervised by one invigilator and shall host no more than 25 participants (24 students + 1 invigilator).
We recommend creating a spare 'Breakout room' for students experiencing technical problems, or for those needing special auxiliary aids.
We also recommend becoming familiar with 'Breakout rooms', since it is fundamental to be able to navigate the process and the relevant procedures (e.g. join, move to, etc.) as smoothly as possible.
Of course you may also choose not to use 'Breakout rooms', choosing instead to divide students into many simultaneous meetings.
5) START OF THE EXAM WITH SAFE EXAM BROWSER (SEB)
Students who take their online exam must first activate Safe Exam Browser (SEB), which is a special browser which prevents users from accessing external online resources from their computer while taking a Moodle Quiz or a Paper-based exam on Moodle.
To find out more about how students should install SEB on their computer we recommend watching the short video tutorial: "How to activate SEB".
Please note: online exams can only be taken by users accessing Moodle via SEB, because online exams are automatically configured in this way.
Students experiencing technical problems during the exam (SEB, internet connection failure, Moodle, login procedure, PC, etc.) must be added to a specific 'Breakout room' where they may be exceptionally allowed to take the exam without SEB, or by other methods (e.g. oral exam).
6) STARTING THE EXAM
MOODLE QUIZ: you (the lecturer) will need to ask students to click on the Moodle Quiz activity on Moodle, and then provide them with the login password.
PAPER-BASED EXAM ON MOODLE: you (the lecturer) will need to ask students to click on the activity and open the PDF file of the exam paper, once you will have provided them with the login password.
7) AT THE END OF THE EXAM
MOODLE QUIZ: you (the lecturer) may choose whether to enable the automatic closing of the exam once the time allowed for completion is over, or to leave it to students to complete their exam and submit their test in time.
PAPER-BASED EXAM ON MOODLE: by the end of the exam time, you (the lecturer) will need to check that students have correctly submitted their exam.
At the end of the exam, you will be expected to provide students with the results of their test (in the case of Moodle Quiz), or with further details on the evaluation of their exam.
Please note: this web page is regularly updated and was last updated on 28 May 2020.